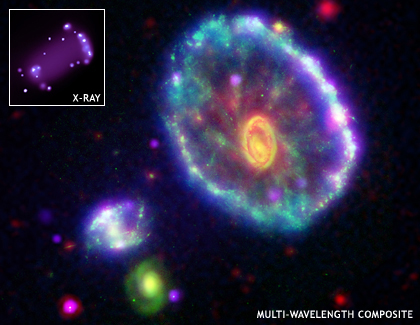 This beautiful
Cartwheel
image has been created by the collision of two galaxies millions of light years away. Keep staring at the image and it reminds you of a Diwali cracker
Zamin Chakkar
, which spins furiously throwing away
fire
. Just imagine such a situation with two galaxies, each consisting of thousands of stars.
Holy Fire
should we call it?
(http://antwrp.gsfc.nasa.gov/apod/ap060118.html)
- The site shows how the image was made by superimposing four different images from four observatories. Will the Human eye ever get to see such resplendent beauty by their naked eye?